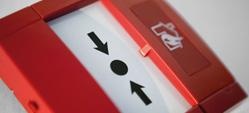 Having a fire detection and alarm system in place is of no use if it is not in full working order and regularly maintained in accordance with BS5839. That's why the qualified team at Unique Fire are on hand to provide effective and regular fire alarm maintenance to all our customers.
Ensuring your fire alarm system is maintained regularly is the best way to ensure that safety is maintained across the premises and compliance with current fire safety legislation. Our expert technicians carry out regular contracted or one-off testing, inspection and repairs to all types of fire detection and alarm systems.
You depend on your fire detection and alarm systems to provide the earliest possible warning of a fire for your staff and visitors. It has been installed to protect life, as well as property and will, when required, be expected to operate correctly in an emergency. So it makes sense that your fire alarm system is kept in optimum condition.

Regular servicing will also ensure the maximum component life and result in lower system downtime.
With British Standards, Fire Legislation and your insurance company requirements.
Reduce the risk of false alarms, which can save money and business disruption, as well as protecting your response levels from the emergency service, who may not attend your premises if you have a high number of false alarms